Signed into existence by President Johnson in October 1964, PRIMUS is the federal government's response to paranormal terrorism and crime. Like its counterpart, the FBI, PRIMUS investigates federal crimes as an arm of the Department of Justice; however, PRIMUS' jurisdiction extends only to federal crimes involving the paranormal or assisting other federal agencies when needed. PRIMUS can also be called in to advise and assist with local law enforcement investigations at their behest. PRIMUS is an emergency responder -- 911 dispatch operators will contact the agency when paranormals are reported or suspected to be involved.
PRIMUS is the one of the smallest of the federal law enforcement agencies: there are less than two thousand armed agents capable of making arrests, compared to over seventy thousand FBI agents. What sets PRIMUS apart from other federal agencies is what makes it the most elite: extensive training, high-tech equipment and Cyberline.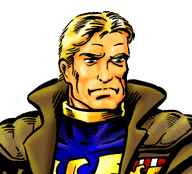 Ask the Golden Avenger: Ever wondered what the Golden Avenger does in his free time? What does PRIMUS think about paranormal vigilantes? Just how far can the Avenger skip a rock, anyway? You can find out all this and more when you read the question our site visitors have posed to the Golden Avenger over the years.
Who is on PRIMUS' Ten Most Wanted list?
Find the closest PRIMUS Field Office to your home -- and the Silver Avenger assigned to it.
Have you ever considered a job with PRIMUS? PRIMUS agents are among the most highly trained and qualified in the world! If you are a college graduate and a US citizen with no criminal convictions, you may be eligible for our Agent Program. Five percent of the population is Cyberline-tolerant: if you are one of these, you may even be eligible to become an Assault Agent!
Recently PRIMUS has added a new division of agents to its organization, nicknamed "Wizards." The PRIMUS Wizards specialize in cases related to magic and the occult.
Find out more about this website: why it exists, how it exists, and how to buy the book. Also, read about SCM's FTF PRIMUS Game.
Site contents copyright Shelley Chrystal Mactyre, 1996-2002
Don't mess with me. I know the Golden Avenger!